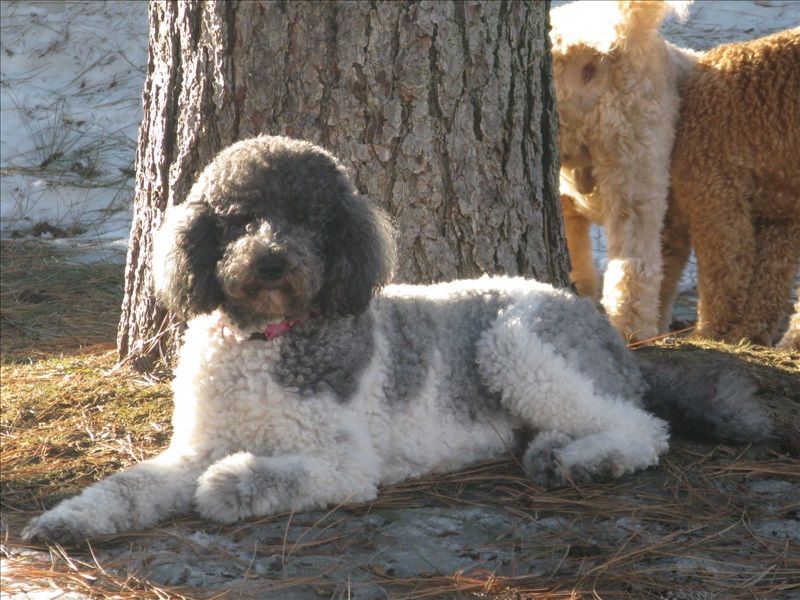 COLOR: BBEe carries the black and cream-white-red-apricot genes but does not carry the brown gene.
OFA Hips: Excellent
OFA Elbows: Normal
DNA Profile #: 8362
CERF: Passed on 3/18/10
DNA Color Profile: BBEe
PRA Certified: Clear
IC:
EIC:
Other:
Retired July 30, 2010. Khaleena is a Large Medium/Small Standard Black and White Parti Labradoodle. She has a magnificent coat and a temperment to match. She is so gentle and mellow, and always happy and eager to be hugged and petted.
Khaleena is a regal lady and her profile when she stands or sits is as if she were a queen. She is not only a great Mother but she also loves to run and play with the other pups. She weighs approximately 47 pounds and is 20 inches tall. She has exceptional Health Scores with Excellent Hips/Elbows and is the most wonderful Mother. She plays with and loves her puppies until they go to their new forever homes. Khaleena is now retired and is so excited about being with her new loving family in Coeur d'Alene, ID.
Her last litter of 9 Parti puppies were the most exceptional litter!!! I am retaining two of her puppies to carry on Khaleena's incredible gentle personality!