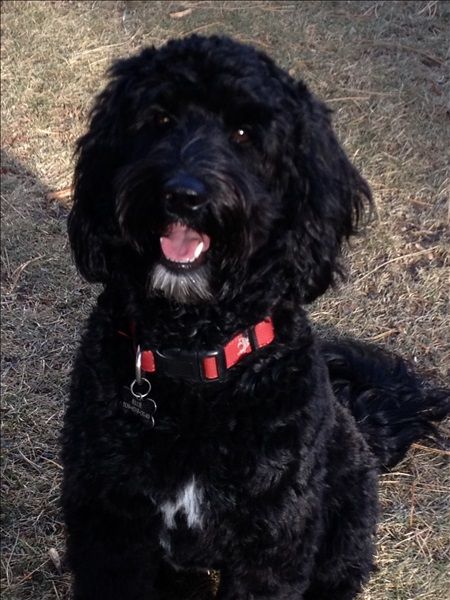 COLOR: Black, Black Nose w/White on Chin & Chest, Brown Eyes (Parti Factored) Throws for Black, Chocolate, Apricot, Iced Caramel Solid & Parti (2 Colors)
OFA Hips: EXCELLENT 3/04/14 Dr. Kent Wallace Vet Diagnostics - GOOD OFA 3.10.14
OFA Elbows: NORMAL 3.10.14
DNA Profile #: N/A
CERF: CERTIFIED 6.4.14
DNA Color Profile: N/A
PRA Certified: CLEAR/NORMAL OPTIGEN 4.22.15
IC:
EIC:
Other:
ALCA #2013000448 ALAA: 32176
BLACK BEAUTY ELLIE has a gorgeous Black, incredibly soft, wavy fleece coat, a lightning white blaze on her chest and a little white tuft on her chin. She's truly a Black Beauty and she's just a love muffin! Ellie has an incredibly loving sweet personality and is very smart! She's 28 pounds so she is considered a Large Miniature. I am so enjoying the companionship and endless love from this sweet gentle girl. Ellie's Mother and Father are exceptional Multi-Generation Australian Labradoodles and she is a gentle soul like her grandmother, Parti-On Khaleena and her Grandfather, Earth Angles ZION of Puppy Love, is just stunning!
Ellie has top scores on all her health testing. Dr. Kent Wallace of eVet Diagnostics rated her HIPS the equivalent of an OFA "Excellent" and Elbows are Normal so there is no Hip or Elbow Dysplasia. The score of EXCELLENT on Hip Joint Conformation is outstanding and a hard score to get! This score indicates that she has "superior hip joint conformation as compared with other dogs of the same breed and age". Ellie has had a complete blood profile indicating liver, kidney and thyroid function are all normal, no diabetes and her eyes have been CERF Certified by an Opthamologist Vet confirming NO glaucoma, cataracks or other eye issues. Ellie was also given a top "Breeding Quality" score on Structure and Temperament by Pat Hastings of Dog Folk.
Although Ellie is mostly Black, she's Parti factored meaning that she can have puppies that are two colors probably White and Black Parti, White & Chocolate Parti, and/or White & Apricot Parti. We're looking forward to offering gorgeous Parti puppies from this gentle soul.