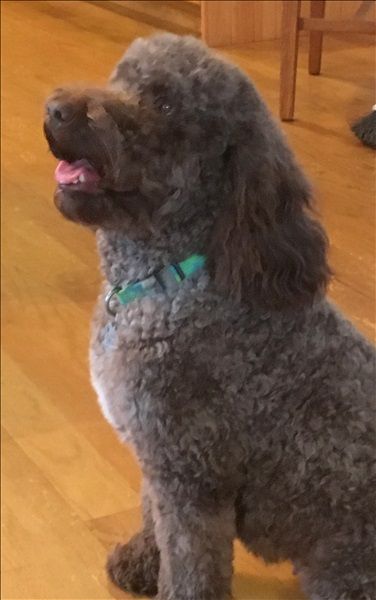 COLOR:
OFA Hips: OFA Excellent & Excellent Per Dr. Kent Wallace, eVet Diagnostics 2/23/15
OFA Elbows: Normal 2/23/15
DNA Profile #: N/A
CERF: NORMAL 2/19/15 Dr. Collier
DNA Color Profile: N/A
PRA Certified: NORMAL/CLEAR - OPTIGEN 4.22.15
IC:
EIC:
Other:
AKA Kylie – ALAA-036439
Parti-On Kalani is the Granddaughter of aAprina's Parti-On Khaleena who is the sweetest, most gentle, soul and we are so blessed to have that trait passed down to her granddaughter, Parti-On Kalani, aka, Kylie.
When born Kylie had a Chocolate Curly soft Fleece Coat that has now turned to that very unique gorgeous Parchment color and her head and feet are still more Chocolate.
Kylie is a large Miniature at approximately 24-25 pounds. She was given the top "Breeding Quality" score from Pat Hastings of Dog Folk on Temperament and Structure, Bones and Muscles. Kylie has also passed her health testing on hips/elbows and eyes with top scores. She is a fun loving, joyful little girl with a great gentle temperament. She loves other dogs and people, is very strong, agile, and runs gracefully and fast like an Antelope. She's a gorgeous little girl! We are delighted to have Kylie bred to our Blue and can't wait for their puppies to be born.