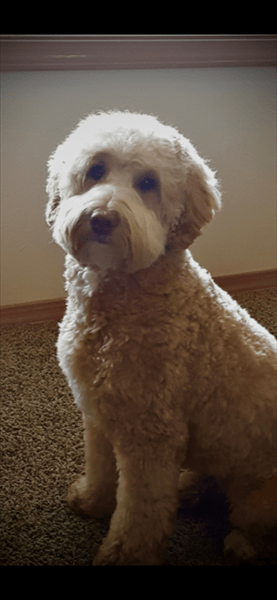 COLOR: ICED CARAMEL
OFA Hips: GOOD
OFA Elbows: NORMAL
DNA Profile #: N/A
CERF: CLEAR/NORMAL
DNA Color Profile: b/b, e/e
PRA Certified: CLEAR VIA PAWPRINT GENETICS
IC: CLEAR VIA PAWPRINT GENETICS
EIC: CLEAR VIA PAWPRINT GENETICS
Other: CLEAR ON ALL GENETIC TESTING
ALAA-075133
Color: Iced Caramel – Weight: 33 lbs.
Priceless Pearl, aka, Kenzie, is the daughter of Priceless Jewel, aka, Jules. We're so thankful that Kenzie has an Iced Caramel soft fleece coat and also has the gentle temperament of her Momma, Jules.
Kenzie's Guardian Family says she's super smart and enjoys showing off all the tricks she has learned. She loves the outdoors, running in the backyard, jumping through the snow, going on long walks and hikes and just relaxing in the sun soaking up the rays. She loves it all!
Kenzie is a strong, very loving, happy girl, a real snuggler and just a total delight! She is very intuitive and knows when snuggles are needed. She is so much fun for the entire family and her snuggles are the best way to end a day!
LITTERS