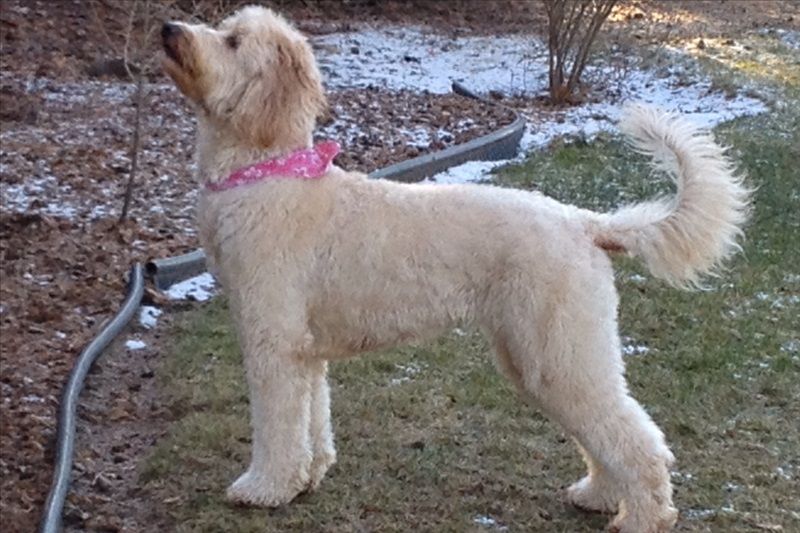 COLOR: Carries for Black, Brown, Cream-White-Red-Apricot Genes.
OFA Hips: EXCELLENT 9/13/11 Dr. Kent Wallace
OFA Elbows: NORMAL
DNA Profile #: N/A
CERF: CERTIFIED 6.4.14
DNA Color Profile: Bb
PRA Certified: CLEAR/NORMAL- OPTIGEN
IC:
EIC:
Other:
ALAA-020448
Oh my goodness. How can I share with you how awesome our Miss Lilly is?
Lilly is truly stunning! She is a medium size Multi-Generation Australian Labradoodle weighing in at 45 pounds. She has an extraordinary soft fleece Light Apricot coat and has the sweetest most loving personality. She is incredibly smart, joyful, loves to play and cuddle and is wonderful with children and the elderly. She is strong, agile and a great Fizbee catcher too!
Lilly has top scores on all her health tests including Excellent Hips/Elbows per Dr. Kent Wallace. We are delighted to have used The Golden Sundance Man, aka, Sully to sire this litter. Both these charming dogs come from top Australian pedigrees with a focus on exceptional health and temperament.