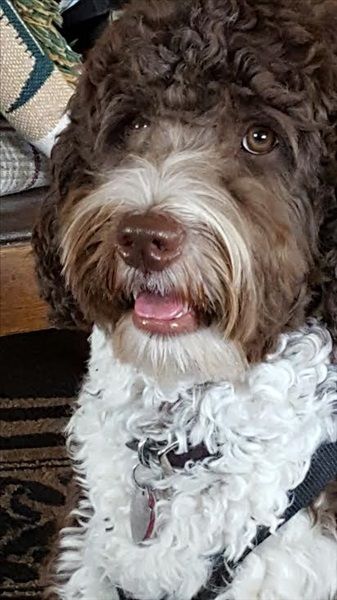 COLOR: Chocolate & White Parti, Carries for Parti and Phantom
OFA Hips: GOOD
OFA Elbows: CLEAR/NORMAL
DNA Profile #: N/A
CERF: CLEAR/NORMAL 9.19.16
DNA Color Profile: COMPLETED 12.28.15
PRA Certified: Clear/Normal PawPrint Genetics
IC:
EIC:
Other:
ALAA-046522
Melt Your Heart Stryker is a stunning little Parti fella with an incredibly soft Chocolate and White wavy fleece coat. He is so smart and loves to make his family happy. He is such a loving boy. Stryker is small Medium at approximately 33-35 pounds.
Stryker scored Top of the Top "Breeding Quality" on Temperament and Structure when evaluated by Pat Hastings of Dog Folk. He has gotten top scores on his genetic health testing ensuring that he does not carry any of the genes for 11 different diseases. He scored a GOOD on his OFA (Orthopedic Foundation for Animals) Testing of Hips and Elbows to ensure that he also has great hips and his eyes have been CERF Certified by an Opthomologist Vet ensuring that he has no glaucoma or cataracts or any other eye issues.
We are very excited about this awesome boy and he has already has blessed us with several litters of little Parti pooches that got top scores in Temperament and Structure and I'm looking forward to seeing more incredible puppies by pairing him with my Parti Ladies in the future.