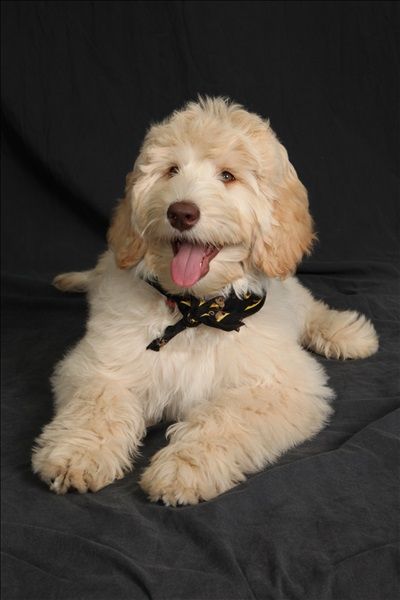 COLOR:
OFA Hips: FAIR (No sign of Dysplasia) 2/20/15
OFA Elbows: NORMAL 2.20.15
DNA Profile #: N/A
CERF: NORMAL CERTIFIED 3.03.15
DNA Color Profile: bbee
PRA Certified: CLEAR/NORMAL OPTIGEN 4.22.15
IC:
EIC:
Other:
AKA Sully – ALAA-028163
Sully is available for stud to approved breeders.
Sully is a stunning, very sweet boy, and his coat is a fluffy incredibly soft wavy fleece. It's a luscious Cream color with Gold Highlights and it's truly as soft as bunny fur. He has great strong conformation and best of all has a joyful fun-loving personality. Sully comes from top Tegan Park and Rutlands original Australian lines. His father, Acadian Turkish Delight is a Chocolate ALF8 and his Mother, Melorich's Kora is a Caramel ALF6. He is about 48 pounds and considered a Large Medium size. He's incredibly smart, learns very quickly and is a very loving fella.
Sully is a great traveler. He's a very social boy and loves to romp and play. He also has many play days with other 4 legged girls and boys and plays beautifully with all. Sully is a great entertainer and not only entertains us but he often entertains himself with toys for extended periods of time.
Sully lives with his wonderful Guardian family in Spokane, WA. They love him to pieces and Sully has been trained to promote good manners and he excels in all that he does. He is an exceptional example of the Multi-Generation Australian Labradoodle! We are so excited about the puppies he will sire with our sweet Lilly.