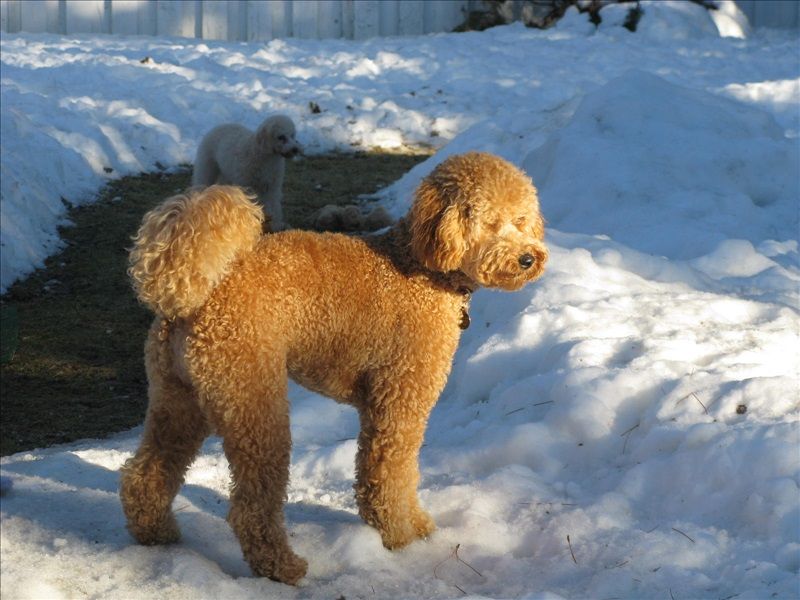 COLOR: Carries for Black, Cream-White-Red-Apricot Genes. Does not carry for Brown.
OFA Hips: GOOD - 4/18/09
OFA Elbows: Normal
DNA Profile #: N/A
CERF: Certified 4/03/12
DNA Color Profile: BBee
PRA Certified: Clear
IC:
EIC:
Other:
Rosie was added to our group of ladies about 5 years ago. I picked Rosie because of her superior pedigree from Australia's Tegan Park and Rutlands, her size (appx. 25 pounds as an adult), her sweet, loving personality and her color. She has an exceptionally soft curly fleece coat. She is a gorgeous apricot, extremely smart and is one of the most loveable sweet dogs you'll ever meet. She has a joyful, happy personality and loves everyone.
Rosie's Mother is Rutlands Redd Elu who is a stunning red color and Redd Elu's mother is Rutlands Clementine. Rosie's father is Primetimes Quincy who is a cream and Qunicy's Mother is Rutlands Shu Shu. Both have excellent health scores.
I bred Rosie to Waldo the Fantastic (Wally Bear) and they presented us with 8 gorgeous apricot puppies on January 8, 2012, and again presented us with 8 gorgeous apricot puppies on March 23, 2013. One puppy from their 2nd and last litter, Blue Star's Mattie, is being considered for our breeding program in the future. All the other puppies are loving and enjoying their new families.
Waldo is just a love muffin and has that incredibly soft silky/wavy Apricot fleece coat and strong blocky Australian conformation that is so sought after. Both Rosie and Waldo are registered Pure Australian Multi-Generation Labradoodles with wonderful loving temperaments, top health scores, non shedding, non allergenic and off-the-charts smart.
Rosie retired in July, 2013, after loving, playing with, teaching and meticulously caring for her third litter of puppies. Rosie is now living with her wonderful new family in Portland, OR. They patiently waited for little Rosie for many months. Rosie is loving being the "only dog" and is in Doggie Heaven with all the love and attention she gets every day. They adore her and feel that she is an incredible blessing to their family! She's a lucky little lady!!!