Alpine's One of a Kind, aka, Luke, ALAA-073227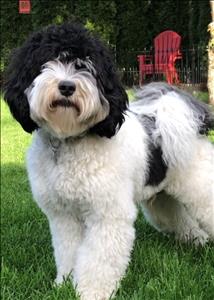 Luke is a stunning Tri-Colored Small Medium size Multi-Generation Australian Labradoodle and weighs about 28 lbs. He has top Health Scores all the way around including an OFA Excellent score on his Hips/Elbows and top scores on Temperament & Structure from Past Hastings of Dog Folk.
The Guardian Family for sweet Luke had one word to describe Luke….JOYOUS! He has a puppy-like enthusiasm that he brings to all experiences and when it comes to cuddling, you will not find a sweeter dog. He will melt into you and your heart will forever be changed.
Luke is gentle, intelligent, eager to please and generous with his affection. All of these wonderful qualities are wrapped up in a beautiful Tri-Colored (Black, White and Tan) soft fleece coat. Luke is the whole package!! We're looking forward to him passing on these exceptional traits to his puppies!
Blue Star's Wish Come True, aka, Ella Josie, ALAA-067031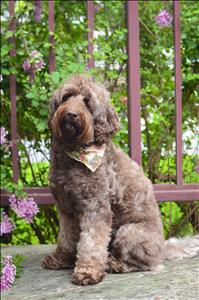 Josie/Ella is a large Miniature size Chocolate Multi-Generation Australian Labradoodle at 24 lbs. She has top Health Scores including an OFA Excellent on Hips/Elbows, Eyes are Certified Clear by an Opthomologist Vet, PawPrint Genetics Clear on all Diseases and received Top scores from Pat Hastings of Dog Folk for Temperament & Structure. Pat is a world renowned canine expert, AKC Judge, Author, Speaker and Evaluates Litters focused on Structure and Temperament.
Josie is a beautiful girl not only outside but also inside. She has a regal presence with head and tail held high, a lovely very soft wavy fleece Chocolate/Mocha coat and she is a gentle soul that loves everyone. Her happy, affectionate, calm, therapy dog, temperament brings joy and comfort to all that meet her. Whether she's snuggling on the couch, relaxing outdoors, going for a car ride, or on her daily jog, Josie is an incredible and loyal companion that just wants to be with her people. And, when they are away, she relaxes and patiently awaits their return. Josie is joyful and brings joy to everyone she meets. We are excited for the arrival of these precious little ones that we are confident will have these same wonderful traits.