Bedrock's A Star is Born, aka, Blaze, ALAA-067120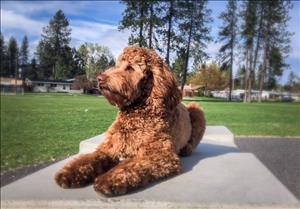 Blaze is an amazing boy that turns heads everywhere he goes. His deep Red color and show stopping looks equally match his loving, gentle and fun nature.
Blaze received top scores on Temperament and Structure with Pat Hastings of Dog Folk who is renowned worldwide for her breeding, judging and educational canine expertise. He also has top Health scores on his Hips/Elbows, Eyes and Genetic testing.
This amazing boy is sure to sire incredible puppies!!
Blue Star's Priceless Jewel, aka, Jules, ALAA-044281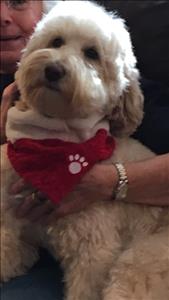 Jules is a gorgeous little girl considered a Small Medium at 30 pounds. Her coat is an incredibly soft Iced Caramel color. She is a gentle soul with a "Therapy Dog" temperament, loves everyone she meets and they fall in love with her immediately. She's a real cuddlier!!
Jules has received top Health scores on all health testing and received the top "Breeding Quality" score for Temperament and Structure from Pat Hastings of Dog Folk. She not only throws for Chocolate and Black but also Apricot, Cream and Red puppies, Parti (2 Color) puppies and Phantom/Tri (3 colors).