BLUE STAR'S A CLASSIE GENTLEMAN, aka, TUX, ALAA-069096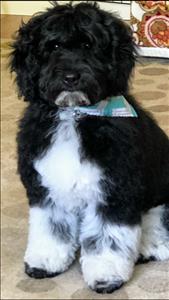 Tux is a Black & White Parti Tuxedo. He is a true Miniature at about 22 lbs. and has the most amazing gentle "Therapy Dog" temperament and a joyful, loving nature. He loves everyone and anyone that meets him falls in love with him immediately. His Mother is my Priceless Jewel, aka, Jules, and he has inherited her loving, gentle temperament.
Tux was evaluated by Pat Hastings of Dog Folk and received top scores for Temperament and Structure.
In addition, Tux has Top Health Scores all the way around on Hips/Elbows, Eyes are Certified and he is Clear/Normal on all his Genetic Testing with PawPrint Genetics. This boy's health and temperament are truly exceptional!
He truly is a gentle soul like his Momma, Jules.
BLUE STAR'S ANGELICA ANGEL, aka, AVA, ALAA-047899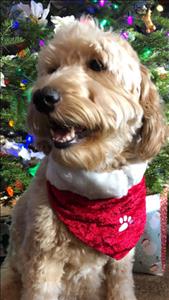 Angelica (Angel) aka, Ava, is the daughter of Hill's West Lilly of Blue Star and Hales Simply Charming Charlie. She is a stunning girl with a soft wavy fleece Apricot coat and is a Medium size at about 38 pounds. Her puppies have been exceptional and this is Ava's last litter.
Ava scored Top of the Top "Breeding Quality" on Temperament and Structure with by Pat Hastings of Dog Folk. She also has top scores on her Hips and Elbows with OFA (Orthopedic Foundation for Animals) and her eyes are CERF Certified by an Opthomologist Vet ensuring no glaucoma, cataracts or any other eye diseases. Ava is a strong, solid girl that can run like the wind, has a real enthusiasm for the outdoors no matter what the weather and just loves the water and snow!! She has a gentle soul, loves to snuggle and get tummy rubs.