Hill's West Melt Your Heart, aka, Stryker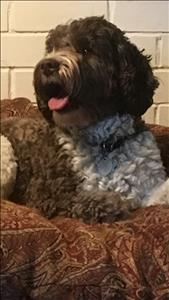 Stryker is a stunning Chocolate & White Parti weighing in at 35 pounds so he is considered a Small Medium. Stryker is a gentle soul and actually saved two Morning Doves that had fallen out of their nest in the field and had one at a time in his mouth so gently and the Guardian home family tended to them and they are now healthy and well.
Stryker is a real Stud Muffin and loves the Ladies! He has sired incredible puppies that have scored Top "Breeding Quality" for Temperament and Structure and I am so delighted to be able to use him with my precious Jules. Stryker has top health scores, has a lovely Chocolate and White Parti coat, is a strong, solid boy and passes his wonderful temperament and structure on to his puppies. He has a fabulous soft fleece coat that is near perfection. Stryker is a true gentleman, has excellent conformation and he's just the perfect size….not too big and not too small. I looking forward to enjoying these precious little ones!
Blue Star Priceless Jewel, aka, Jules
Jules is a gorgeous little girl and is considered a Small Medium at about 30 pounds. Her coat is a soft Iced Caramel color with White Blaze on her chest. She loves everyone she meets and can't wait to snuggle up with you. She will run miles with you and is also content to lay beside you or at your feet while you work on the computer, read or enjoy a great movie. Everyone that meets her just loves her to pieces!
Jules has received top Health scores all the way around including the top OFA score of Excellent on her Hips and Elbows. She also received the Top "Breeding Quality" score from Pat Hastings of Dog Folk for Structure and Temperament. She's just an incredible little lady! She not only throws for Chocolate and Black puppies but also Apricot, Cream and Red, Parti (2 Color) puppies and Phantom/Tri (3 colors). Jules has been my constant companion since she was born and is so smart, intuitive and joyful. She truly is a gentle soul with a loving therapy dog temperament.