Hill's West Melt Your Heart, aka, Stryker ALAA-046522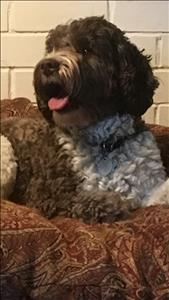 Melt Your Heart Stryker is a stunning little Parti fella with an incredibly soft Chocolate and White wavy fleece coat. He is so smart and loves to make his family happy. He is such a loving boy. Stryker is small Medium at approximately 35 pounds.
Stryker scored Top of the Top "Breeding Quality" on Temperament and Structure when evaluated by Pat Hastings of Dog Folk. He has gotten top scores on his genetic health testing ensuring that he does not carry any of the genes for 11 different diseases. He scored a GOOD on his OFA (Orthopedic Foundation for Animals) Testing of Hips and Elbows to ensure that he also has great hips and his eyes have been CERF Certified by an Opthomologist Vet ensuring that he has no glaucoma or cataracts or any other eye issues.
We are very excited about this awesome boy and he has already has blessed us with several litters of little Parti pooches that got top scores in Temperament and Structure and I'm looking forward to seeing more incredible puppies by pairing him with my Parti Ladies in the future.
Blue Star's Black Beauty,aka, Thora, ALAA-070259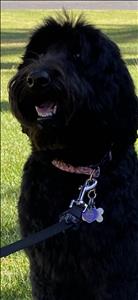 Thora is a Medium size Multi-Generation Australian Labradoodle and weighs about 45 lbs. She's a great family dog and is always up to play or go for a hike. She may forever be a playful, joyful puppy at heart. Thora is very smart. learns quickly and her Guardian's sons have taught her many things beyond what she has learned in her training classes. She is very social and gets along great with dogs of all sizes.
Thora is very intuitive and has adapted to the different needs and personalities of her family members going from really playful to calmly supportive when she senses the need.
She has a very soft wavy fleece Black coat with brown around her muzzle. People love petting her & often say she is the softest dog they've ever touched! Thora is very Lab like and loves stalking birds going on point in the Guardian's big backyard.
Thora has top health scores and also received top scores from Pat Hastings of Dog Folk on Temperament and Structure. She's a strong girl with a gentle, loving nature. We are really looking forward to passing these wonderful traits to her puppies in the future.