MELT YOUR HEART, aka, STRYKER ALAA-046522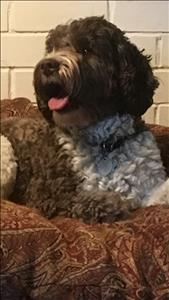 Hill's West Melt Your Heart Stryker is a stunning Parti Boy with an incredibly soft Chocolate and White wavy fleece coat. He is so smart, loving boy and loves to make his family happy. Stryker is Medium size at approximately 35 pounds and scored Top of the Top "Breeding Quality" on Temperament and Structure when evaluated by Pat Hastings of Dog Folk. His PawPrint Genetic Health Testing showed him Clear for everything on their Disease Panel and he top scores on his OFA (Orthopedic Foundation for Animals) Testing of Hips and Elbows to ensure that he also has great hips and his eyes have been CERF Certified by an Opthomologist Vet ensuring that he has no glaucoma or cataracts or any other eye issues.
We are very excited about this awesome boy and he has already blessed us with several litters of little Parti pooches that also got top scores on Temperament and Structure and I'm looking forward to seeing more incredible puppies by pairing him with my sweet little Coco.
COCO/CHEVY ALAA-053331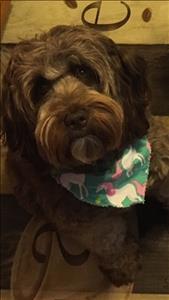 Oh my goodness, my little Coco is a dream come true! She is a total sweetheart, loves everyone, incredibly smart, strong, agile, loves life and is just a joyful little girl. Coco is a very laid back, calm, mellow little girl who loves to cuddle and so enjoys her Guardian Family Monique, Kelly and Kade. She is very intuitive and when she looks at you with those beautiful amber soulful eyes, she melts your heart. Coco's coat was a rich Chocolate when she was born and she now has chocolate ears and feet and the rest of her Chocolate coat is swirled with a mix of silver.
Coco's Mother, Ellie, is such a gentle soul and Coco has that same "therapy dog" temperament. I can't wait to see what the pairing of these two blesses us with!!