His Fame's The Dakota Redd, aka, Redd, ALAA-083670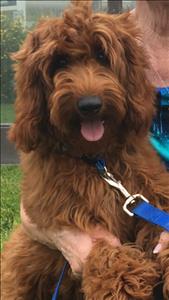 Redd is a very handsome Multi-Generation Australian Labradoodle. He's 28-30 lbs. and has a soft wavy fleece coat with the deepest, richest RED color. People constantly say that they have never seen a dog with his deep red color. His gorgeous looks are equal to his sweet, loving, joyful "therapy dog" nature. He loves everyone and all doggies included.
His Guardians describe Redd as a gentle, calm, lovable boy that knows just when each of them needs cuddling. He is so intuitive! He loves to be with his family, learns quickly and desires to please. He also loves to play outside and run with the kids, prances proudly when walking in the neighborhood and is happy to be friends with everyone. He is a gentle soul!
Redd will be available for Stud to approved, quality Breeders.
Blue Star's Dancin' In The Moonlight, aka, Luna - ALAA-061849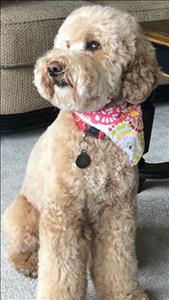 Luna was born during the Lunar Eclipse in 2017 so she was named Blue Star's Dancin' in the Moonlight, aka, Luna ALAA-061489.
She's a Multi-Generation Australian Labradoodle with a lovely, soft, Dark Caramel wavy/curly fleece coat. Luna is a Small Medium size at about 30 lbs. She is a very happy-go-lucky, joyful girl that loves to be with her family, to travel, go camping and go on walks in the neighborhood and local parks. She is always a wonderful attentive companion, loves to play in the leaves in the Fall, running through the powdery snow and is a watch guard around the pool. Meeting people is one of Luna's favorite things to do. She is so charming that she wins your heart with her sweet natured personality, her fluffy teddy bear looks and her soulful eyes.