Riverbend's Playin' the Blues, aka, Blue, ALAA-047727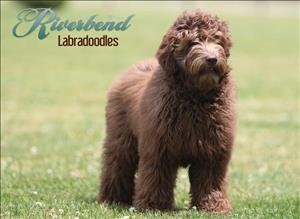 BLUE, Riverbend's Playin' The Blues, is a stunning home-raised Chocolate Mult-Generation Australian Labradoodle. This chunky boy has great conformation and a super laid-back, easy-going personality. He is a gentle soul, loves everyone and everyone loves him! He's such a happy, joyful, boy and a real love muffin! Blue is a Medium size at 40 pounds. Blue was evaluated by Pat Hastings of Dog Folk for Temperament and Structure and he scored top "Breeding Quality". Blue carries for Chocolate, Caramel, Apricot, Cream, Black and has the most luscious very soft wavy fleece coat.
Blue is incredibly smart, has a strong, sturdy conformation, is non shedding and non-allergenic and has the most luscious very soft wavy fleece coat. I'm excited to be able to pair this incredible boy with my lovely Ava.
Blue Star's Angelica Angel, aka, Ava, ALAA-047899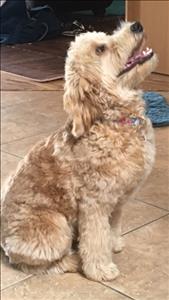 Angelica Angel aka, Ava, is the daughter of my Hill's West Lilly of Blue Star and Hales Simply Charming Charlie. She is a stunning girl with an incredibly soft wavy fleece Light Apricot coat and is a medium size at about 35 pounds. Ava scored Top of the Top "Breeding Quality" on Temperament and Structure when evaluated by Pat Hastings of Dog Folk. She got top scores of CLEAR on her PawPrint Genetics Disease Panel. She also has top scores on her Hips and Elbows with the OFA (Orthopedic Foundation for Animals) and her eyes were Certified by an Opthomologist Vet to ensure that there are no cataracts, glaucoma or any other eye issues.
Ava has gorgeous dark brown intuitive eyes and delights in the opportunity to play with and hang with her humans. She is a very sweet and loving girl with a gentle nature. Temperament is inherited so we are truly fortunate to have such an exceptional Sire and Dam.