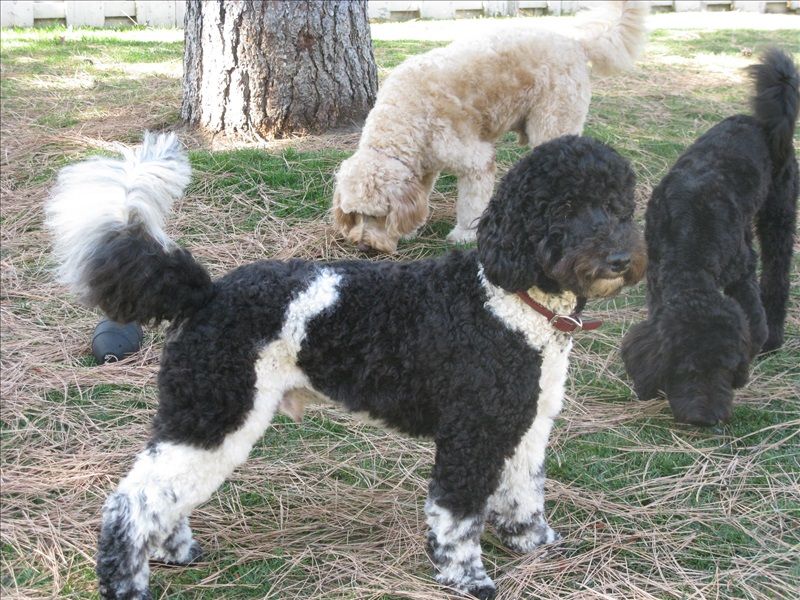 COLOR: Carries the black and brown genes
OFA Hips: EXCELLENT
OFA Elbows: Normal
DNA Profile #: N/A
CERF: Clear 8/12
DNA Color Profile: BBee
PRA Certified: Clear by Parentage
IC:
EIC:
Other:
ALAA #028438
Blue Star's Murphy is a gorgeous Black and White Parti Australian Labradoodle. He has a soft wavy/curly fleece coat, He's Medum size at 40 pounds and was born on September 25th, 2008. He is the sweetest, most fun loving fella. He looks so regal as he plays in the yard and is a joy to watch.
Murphy is an extraordinarly loving, sweet boy and has that gentle personality the Australian Labradoodle is prized for. He loves all people, other animals, and is great with children. This off-the-charts smart, strong, agile boy also has that more blocky lab look that is sought after. Murphy is just a sweetheart and loves to give kisses and snuggles! Murphy's Daddy is Cloudcatcher Keith from a new breeding line out of Australia and his Mommy is our very own Parti-On Khaleena. Khaleena has the most calm, gentle personality, and her puppies all have that wonderful soft fleece coat.
Murphy passed his OFA (Orthopedic Foundation for Aminals) with a score of EXCELLENT on Hip Joint Conformation. This is outstanding and a hard score to get! This score indicates that he has "superior hip joint conformation as compared with other dogs of the same breed and age". He was also negative on both elbows for dysplasia. Both of his parents were OFA Excellent also. We couldn't be more delighted! This gorgeous boy sires exceptional puppies!
I am delighted to share that Murphy is living with his wonderful new OWNER. He was living with Wendy as his Guardian Home provider and now Ownership has transferred to Wendy and Murphy is retired and enjoying the good life with Wendy who loves him dearly. They are best buddies.