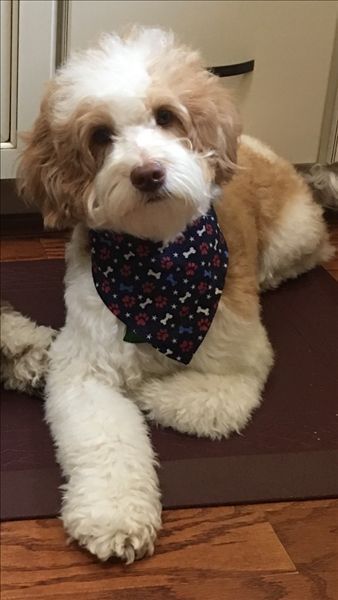 COLOR: CARAMEL & WHITE PARTI
OFA Hips: GOOD
OFA Elbows: NORMAL
DNA Profile #: 62832
CERF: CLEAR/NORMAL
DNA Color Profile: b/b, e/e
PRA Certified: CLEAR VIA PAWPRINT GENETICS
IC: CLEAR VIA PAWPRINT GENETICS
EIC: CLEAR VIA PAWPRINT GENETICS
Other: CLEAR ON ALL GENETIC TESTING
ALAA-063738
Blue Star's Parti-On Leilani, aka, Lani, is a lovely little Miniature Caramel & White Parti girl at about 20 lbs. She is a little sweetheart and wins hearts everywhere she goes with her gentle, loving nature.
Lani has top Health Scores on Hips/Elbows, Eyes are Certified and she is Clear on all her Genetic Testing. She was evaluated by Pat Hastings of Dog Folk for Temperament and Structure and received top scores! Pat is a world renowned canine expert who has over 50 years of experience in the dog world. I am so fortunate to have Pat evaluate my litters of puppies. These Evaluations ensure selection of strong, healthy puppies with wonderful temperaments to add to my future breeding program and provide families with exceptional puppies! Lani's family shared the following about her.
"A stranger is just a friend I haven't met yet" would be Lani's catch phrase. She is extremely social with people and other animals alike! Miss Lani is an incredible family dog that shares our philosophy of "the more the merrier" and "the door is always open"! She is highly intelligent and intuitive following commands and usually knows what you want before you ask! She also passed her Canine Good Citizen with flying colors! Playing fetch with a ball or a Frisbee is one of her favorite past times. However, she is truly the kind of dog that just wants to be where you are no matter what you are doing, whether it is walking or hiking, hanging in the back yard or in the house, going shopping or on car rides, she is game for whatever, whenever.
LITTERS