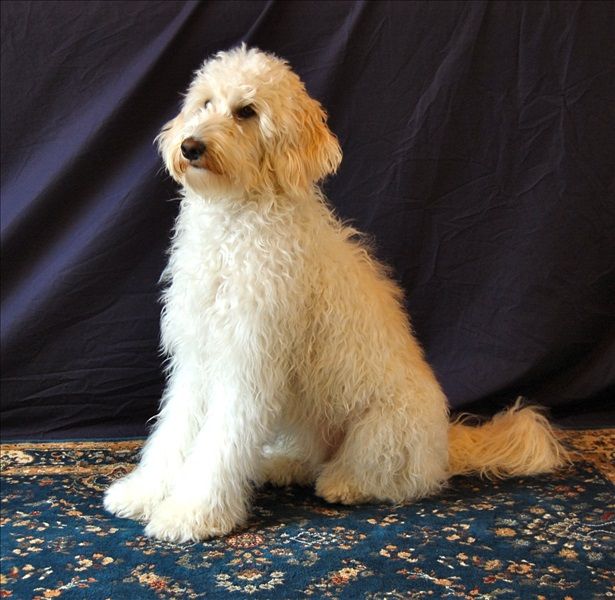 COLOR: Apricot and White
OFA Hips: GOOD 7/15/11
OFA Elbows: Clear
DNA Profile #: N/A
CERF: CERTIFIED 4/02/12
DNA Color Profile: N/A
PRA Certified: CLEAR
IC:
EIC:
Other:
ALAA #-028399 / ALCA #2012000187
Blue Star's Zadie is a gorgeous Parti girl with an exceptional Apricot and White coat that is incredibly soft. It's hard to stop petting this sweet girl. She just had her 3rd litter, is now retiring and ownership is transferring to her Guardian Home Provider.
Zadie is a delightful dog with a wonderful temperament. She is always happy and playful, but also ready to curl up next to you for a cuddle and a nap. Zadie is 21 inches tall at the shoulder and 28 pounds. Her coat is a lovely, wavey fleece, with light apricot patches on her head, across her back and at the base of her tail. Her nose is black and her eyes are dark brown, with long eyelashes and her eyelids are rimmed in black so she looks like she is wearing eyeliner adding to her striking look. Everyone who sees Zadie loves her, and she loves everyone she meets. She is very smart, learns quickly and Zadie earned her Canine Good Citizen award just after her first birthday.
Zadie's mother, aAprena's Parti-On Khaleena, is a wonderful mother and Zadie has followed in her footsteps. We are so thankful to Darice from Puppy Love Labradoodles for making Zion available to our sweet Parti-On-Khaleena. Khaleena is now retired. The Zion/Khaleena litter produced extraordinary puppies and we kept Blue Star's Zadie from this litter. Blue Star's Zadie was bred in January of 2013 to a Parti Boy, Ladd Hill's Quixote. He's a Chocolate and White Parti boy and the puppies were Black with White, Chocolate and white, Chocolate and Black. The puppies were just stunning so we did this same paring this year in March and they had 9 incredible puppies (5 Chocolates, 1 Black and White Parti, 1 Chocolate and White Parti and 2 Blacks).