Bedrock's A Star is Born, aka, Blaze, ALAA-067120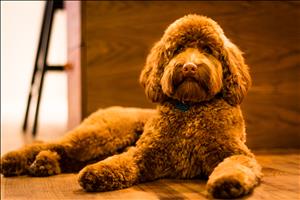 Blaze is an amazing boy that turns heads everywhere he goes. His deep Red color and show stopping looks equally match his loving, gentle and fun nature.
Blaze received top scores on Temperament and Structure with Pat Hastings of Dog Folk who is renowned worldwide for her breeding, judging and educational canine expertise. He also has top Health scores on his Hips/Elbows, Eyes and Genetic testing.
This amazing boy is sure to sire incredible puppies!! We can't wait to see these precious little souls!
Blue Star's Dancin' in the Moonlight, aka, LUNA, ALAA-O61849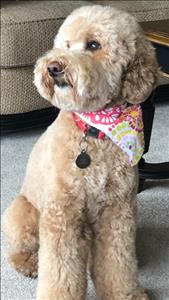 Luna was born during the Eclipse in 2017 so she was named Blue Star's Dancin' in the Moonlight, aka, LUNA ALAA-061489. She has a lovely, soft Caramel wavy/curly fleece coat. She's a Multi-Generation Australian Labradoodle that is Medium size at about 30 lbs. She is a very happy-go-lucky girl, loves to travel, go camping with her Guardian Family and is a very sweet natured and loving little lady.