ELL'S LITTLE HEART BREAKER, AKA, CHARLIE, ALAA-067161
Charlie is also a Multi-Generation Australian Labradoodle and he's considered a Small Medium at 35 lbs. He's also a very gentle soul and has the Therapy Dog Temperament we look for when choosing a Honeymoon partner for our Ladies.
Charlie is a Chocolate & White Parti and carries for Tri-Color (Black/White & Tan) and so does Jalee so we are hoping for a few Parti Tri-Color puppies. He has a very soft wavy fleece coat. He scored top of the top when evaluated by Pat Hasting of Dog Folk for Temperament and Structure. Thank you Julie Stephens of Healing Hearts Labradoodles for letting us use your Charlie! He's an awesome boy with amazing good looks and a gentle sweet nature.
BLUE STAR'S LADY JULIET, AKA, JALEE, ALAA-04638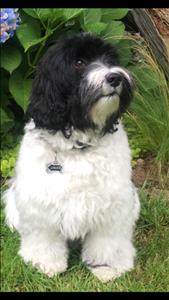 Lady Juliet, aka, Jalee, is just what we've been waiting for….a gorgeous little girl that is a true Miniature at 18 pounds. Her Black & White Parti coat is luscious and soft as bunny fur. She has such a joyful personality and is a loving, cuddly, little one. Jalee has a Princess prance with her head and saber tail held high. She runs like the wind and almost seems like she could fly. She comes from a long line of top Multi-Generation Australian Labradoodles and carries a variety of colors including the Tri-Color (Black/White/Tan) so we may have a couple Tri-Color little kiddos. Jalee has scored the top score of Excellent on her Hips/Elbows with the Orthopedic Foundation for Animals (OFA) and her eyes have been Certified by an Opthomologist Vet to ensure that there is no glaucoma or cataracts or any other eye diseases.
Jalee scored Top of the Top "Breeding Quality" on Temperament and Structure when evaluated by Pat Hastings of Dog Folk. Jalee lives with her awesome Guardian Family, Bob and Sharon, and her cousin Harper and they all get to play with their cousin, Cabela, Harper's sister, when they visit Auntie Brandis in the Tri-Cities, WA.