Hale's I'm Just A Gigolo, aka, Gigolo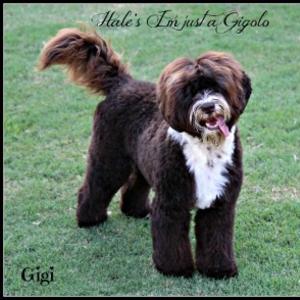 Gigolo is a little Stud Muffin and has sired many incredible little pooches.
He's not only a striking Chocolate & White Tuxedo but his temperament, conformation and fabulous incredibly soft wavy fleece coat are near perfection.
Gigolo is a joyful, happy-go-lucky boy, has excellent health testing and a truly wonderful loving personality.
Thank you, Heather, for letting us pair this exceptional Mini Stud to our precious Layla.
Blue Star's Layla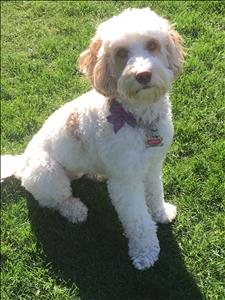 Layla's comes from a long line of top Australian Labradoodles with those traits that the Australian Labradoodle is prized for……loving gentle "therapy dog" temperament, joyful personality, off-the-charts smart, intuitive, strong and athletic, agile, fun-loving, friendly and social and they are fantastic loyal companions. Layla and her puppies also have incredibly soft non-shedding and allergy friendly wavy fleece coats.